People say a first impression says a lot. I should have went with my gut feeling when we went to the
Island Palms Hotel
. (It wasn't a good one.) However, people say never judge a book by it's cover. In this case though, I think I should have trusted my intuition. It's so rarely wrong. ;)
It was quite confusing to figure out where the lobby was exactly because it looked like two completely different hotels. So we walked down, glanced at a map and finally found the lobby. When we talked with the front desk, a lady handed us some papers and said the person in charge wasn't here today. And that was it. The other places didn't have their main catering person there either, but at least they led us in the general direction of places to look at. Not a very good first impression in my opinion. Adam on the other hand, is a lot more forgiving than I am. :) I love that about him.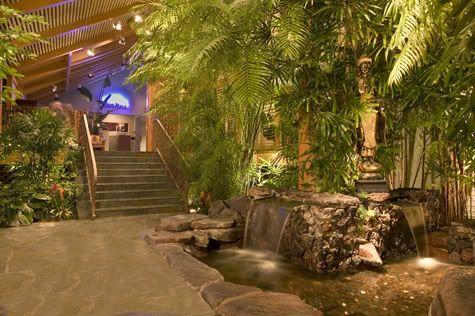 We sat and looked at the papers that gave us "directions" to the different places. (Directions in lieu of actually having to talk to us, perhaps? note the sarcasm.) We headed off towards the ballrooms. The lobby itself is very exotic, polynesian-looking. We followed the information that described the maximum number of people for each venue. We walked downstairs past the restaurant and into a ballroom with the wall up in between the two separate rooms. Supposedly, according to the information sheet, the Grand Marina Room is supposed to seat 150 max. Both of us just kind of laughed because there's no way 150 seated people can fit into that room. Granted the wall partition WAS up, but really? I tried to picture 75 people in each half and just couldn't. SECOND bad impression.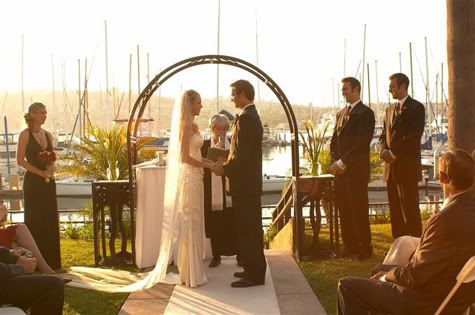 We walked out to find the Grand Marina Garden. The picture above is the picture from their website. Very nice looking, right?
Well, the sheet says it can fit 150 people. If you look at my picture in the slideshow, I seriously cannot see how 150 chairs are going to fit in that small area. Are people expected to stand? Or are they going to watch from their guest room windows and balconies, perhaps?
THIRD bad impression.
At this point, we were very disappointed by their lack of being able to accurately measure the maximum capacities of their venues. I mean, we're no "measuring geniuses" that know exactly how 150 people look like, but I think they might have stretched their numbers in order to squeeze people in (uncomfortably at best).
We were not very impressed at this point. We decided to go see the final ballroom on the list, called Water's Edge Ballroom. Now what image comes into YOUR mind when you hear "water's edge ballroom"? A lovely ballroom on the edge of the water, maybe? Oh man. We walked down past the Casa Del Mar part of the complex. This is what you see when you first open their website. Very lovely looking, but it did NOT match the first part of the hotel (the Polynesian themed part). Adam made an observation that it almost appeared like this company just bought these areas to add to their land.
So imagine our surprise when we finally walked down to the end of the complex to where the Water's Edge Ballroom is located and it looks like an old lodge (and that's coming from Adam)! I didn't even bother to take a photo of it. It was too disappointing to even photograph, honestly. I wasn't impressed by it when we approached it, but kept that opinion to myself until Adam finally said something. I have to say I was relieved that we both had similar opinions about it. :)
Fourth and FINAL bad impression.
My overall impressions...

(just to be consistent with the other posts)
Needless to say, we did NOT like this place. The prices are little higher than Tom Ham's, but lower than Kona Kai's. However, it just didn't sit right with us so... thanks, but no thanks!


Photo credits: